Batu Bulan
Driving northeast of Denpasar, one is soon among the fields and streams of Badung and Gianyar. Badung's district border is marked by a spinning factory named Patal Tohpati. Tohpati means "where people risk their lives" and alludes to a former battle between two rival kingdoms. Entering Batubulan, stone statues of divinities and demons, humans and animals line the roadside. They are sold to tourists and to the Balinese as protective figures or for family shrines.
You can watch boys carving at the workshops, for the boys form the bulk of the dozen or so groups. Batubulan also boasts many dance clubs that regularly perform. Antiques and handicrafts are on sale, besides the stone carvings. Because its stone sculptors are exceptionally gifted, Batu bulan is an area of beautiful temples. Particularly interesting is the Pura Puseh, lying 200 meters inland. Here on the temple gate, deities from the Hindu pantheon are juxtaposed to a meditating Buddha.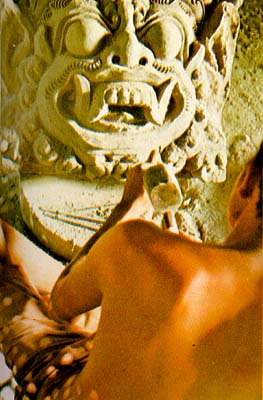 Copyright 2001-2015, K&D Bali Designs. All rights reserved.