Sukawati and Batuan
After crossing the Broken bas-reliefs, rock monasteries and Hindu River Oos by the large new bridge, the road statues are found scattered among the temples turns sharply north into Sukawati and then and rice fields.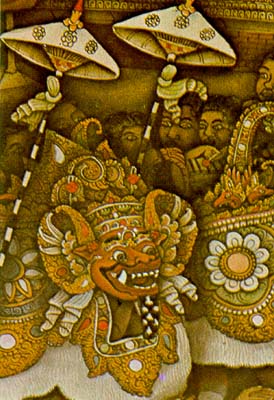 Batuan. In 1022 king Marakata issued an edict creating these two villages out of the popular legend tells of the King Mayadanawa, old Sukawati. The important Sukawati market whose pride in his great magical powers even attracted Chinese merchants and the brought the gods to wage war against him. puri became a center for the arts. It is still the wayang center of Bali.
Copyright 2001-2015, K&D Bali Designs. All rights reserved.