Sibetan, Selat, and Iseh
From Subagan, the village in the solidified lava flow outside Amlapura slowly putting itself back together, a road heads west along the foothills of Gunung Agung. It meets the Klungkung Besakih road at Rendang, and thus makes possible a round trip in Karangasem.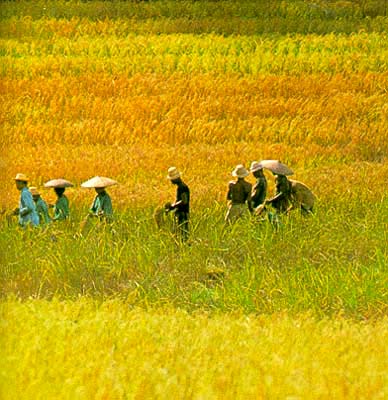 The island route provides a chance to explore seldom-visited villages of the beautiful east. Women carrying loads of sweet potatoes, spices and bound piglets, men leading cows for sale, make their way to the village markets which teem with activity until around moon. Large markets come round every three days, that at Bebandem being especially interesting. A few kilometers farther west is Sibetan, rich in rice and fruit, famous for sank, a brown fruit with the texture of an apple and clothed in a skin resembling that of a cobra. Plantations of the low thorny sank palms cover the range between Sibetan and Selat. From Selat a back-road leads through lseh and Sideman to just east of Klungkung.
Iseh, a mountain village where people grow rice and white onion, was chosen in 1932 by the German artist Waiter Spies as a site for a country house. For many years after, Theo Meier, a Swiss painter, lived in the same house that gazes out on an uninterrupted view of the great volcano. The massive slope is cut by deep ravines, forming serpentine shadows descending to a wide valley of rice fields. In the landscape, hues vary from luminous yellow, to opulent light green of mature rice, to red-stemmed buff of stalks just before harvest.
Wherever you travel in the east, you take away impressions of serene landscapes, rustic villages and undulating rice fields often dotted with fruit trees, papaya and bananas. The larger festivals are amazing: temple buildings and tall bamboo structures hung with colored cloths and decorated with rice cookies; the swell and bustle of the crowd; women running around with offerings; and the gamelan playing-all in worship and honor of the gods who have made it so.
Copyright 2001-2015, K&D Bali Designs. All rights reserved.